Pedigree Team Husky Horizon North American State Litter
---
Team Husky Horizon
North Dakota, Alaska, Maine, Montana, Minnesota, Rhode Island, Iowa

Snooperz Black Velvet

Alka-Shan's Low-Limit
Alka-Shan's Woodruff
Alka-Shan's Nijinsky
Somerset Islands Omega
Alka-Shan's Derby
Shaktoolik's P'sgt Pepper
Buffie Of Snow Creek Valley
Howling Spirits Zoe
Howling Spirits Ranger
Vajradhara's Boo-Boo
Howling Spirits Sparrow
Howling Spirits Frost
Howling Spirits Sumac
Jaunty Of Sepp-Alta
Vakarevo's Bliss Of Triton
Jarviks Triton

Trinity Kennel's O-Grey Wolf
Trinity Kennel's Bugs
Fortsalongs Diamond
Jarvik's Czardas
Alka-Shan's Callico
Snowtrails Sandra
Vakarevo's Hera
Kljutjevskajas Boris
Snowtrails Crazy
Snowtrails Maggie
Indiana
Snowtrails Crazy
Snowtrails Tussie
2012-10-30: Team Husky Horizon North American State Litter.
October the 25, 2012, our North American State Litter was born. To ensure the dynamics and high level of our team Siberian Huskies, we decided to make a litter this autum.
Snooperz Black Velvet x Vakarevo's Bliss Of Triton.

It was very easy again to choose Bliss as the mother of our new litter. She is so nice and calm, a very responsive dog with absolute top performances when she is leading our team on tours with dogroller or sled. She has proven her skills in sprintraces in Denmark and on medium distance recreational tours in Sweden. She is a stabil eater and a very easy keeper.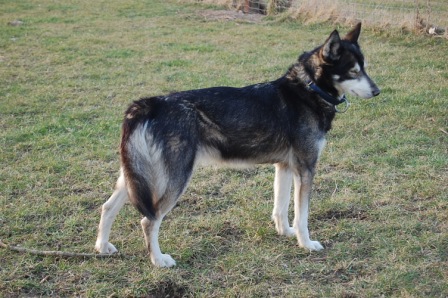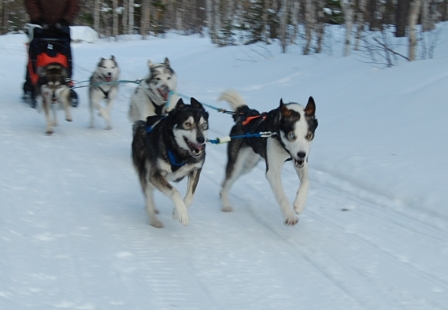 The male, Snooperz Black Velvet, is a fantastic sleddog living at Kennel Alka-Shan in Hannover, Germany. He is a very well build male with a good firm head. He has prooven his abilities as a middistance racing sleddog on several races in Sweden. 5 wins and 1 2nd place in 6 races, and finishing all of them. Black Velvet was also on the team finishing the Polar Distance in Sweden (170 km) in 2012, in 13 hours and 48 minutes.
Size: 60 cm / 24 kg
HD: A1
Eyes: Clear
Races: Mid distance races 12-dog team, five wins and one 2nd place.
Working Certificate: Distance Open Class 2010/2011
Show: Excellent (2009)
DNA-profiled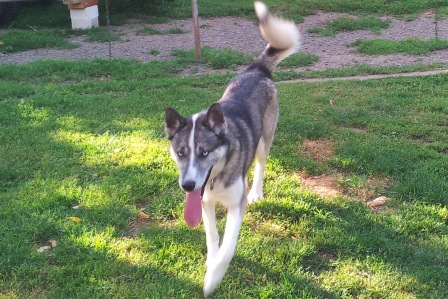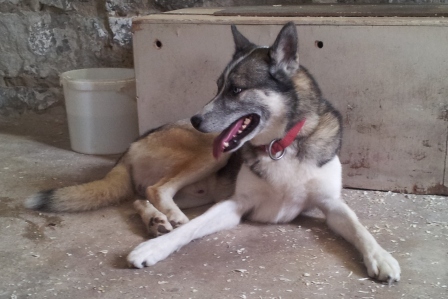 Bliss and her puppies - October 30, 2012 - 5 days old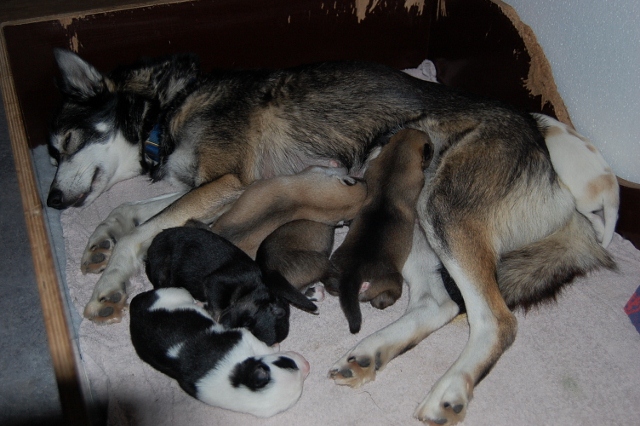 ---